Mobile App for N1 Bet Casino
N1Bet Casino has provided quality online services to casino players for years now. Going a step further to give gamblers the best possible experience, it developed the N1 Bet Casino App. This app works on mobile devices running on android or iOS.
The N1 Bet Casino Mobile App gives gamblers easier access to the games. It also allows casino players to play casino games on the go. You can still access the N1 Bet casino from your desktop, but if you are ever away from your desktop, the entire casino thrill remains available on your phone. Read all you need to know about the mobile casino app here.
The mobile app is great for gamblers because it saves them the stress of repeatedly logging in to the website. It also allows you to easily navigate through an interface built for gambling. Once you install the app and log in, you can save your account and resume gambling instantly when next you open it.
People generally use their phones more than laptops and other devices; this preference does not have to stop you from enjoying your betting experience. With this mobile app, you can carry the fun of gambling with you wherever you go.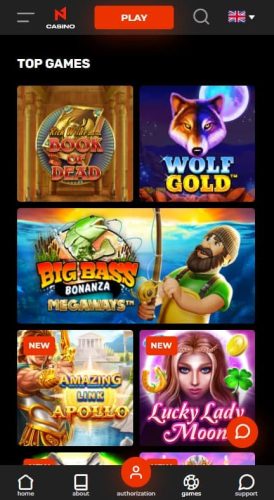 Download N1 Bet Casino Mobile App
Most of the time, you install the apps you need from your phone's mobile store. Unfortunately, that is not the case with online casino apps. Mobile stores have regulations that prevent them from holding gambling mobile casino apps on their systems. Recently, these regulations are being softened, and they have started accepting casino apps, but they do not allow all countries to access them.
The N1Bet Casino Mobile App is not an independent app, rather it is a PWA version of the site. It is sometimes also called a web app.
You do not need your app store or an apk to install this, simply install it on your browser and you are good to go. Navigate the download app link on this page to download and install the app.  Once you install it, you would be able to access the website from the mobile app and you can continue playing and winning there.
You can open the app from the dropdown menu of your browser. You can also have it saved on your home screen to give you easy access to the app. Whenever you want to play at N1Bet Casino, rather than searching the web address and logging in, simply select the app and start playing.
How to use the N1Bet Casino Mobile App
The N1Bet Casino App works like all other apps you use on your phone. After installing it, you would need to register your account on the app. Select 'Authorization' to log in or sign up as a new member. Once you are done with that, you would have access to games, offers, your wallet and your account.
If you already use N1 Bet Casino on the web, the interface works the same. All the functionality that you enjoy on the N1Bet Casino website, you can access them on the app. You can navigate to the games tab to select the game you want to play. This works the same way you navigate to the lobby to play games on the web version.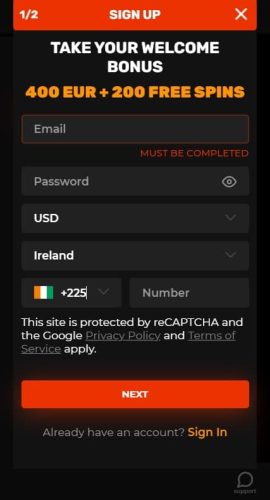 The Interface of N1 Casino Mobile App
If you're used to betting with N1Bet Casino from your desktop, be prepared for a much smaller view. The mobile casino app is built to flexibly fit the size of your device. Although the website and app functions are the same, the interfaces are different because phone screens are smaller.
Lists of options are kept together in a drop-down menu on the app to maximize space. The navigation bar that you might already be familiar with from the website is placed in a hamburger menu in the app.
Right above your phone's navigation bar, the app also has a lower navigation bar to quickly link you to the app's main sections. You can link to the Home Page, the Games Page, our Contact Page and your account from the app's lower navigation menu. It is permanently placed there, so you can't get lost in the app.
The interface for playing the games on the N1 Bet Casino mobile version has also been modified for easy use on your phone. We will always provide a guide to show you what you do. If you ever encounter any difficulties while using the app, contact our support channels right from the app. You will get a response as quickly as possible, and the problem will be attended to.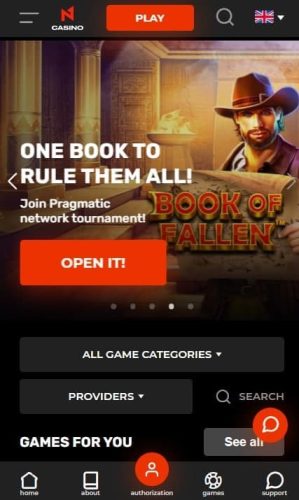 Account Registration and Deposit on the N1 Casino App
Immediately after installing the app, it would prompt you to register your account and get verified to start using the app. N1Bet Casino is a licensed application, and it is bound by regulations that require it to verify its users' identity.
You will have to fill in some personal details on the mobile app at this stage. When filling in your personal details as requested, please use your accurate details. Sometime later, the app will automatically try to verify your details. If you cannot verify the details you provided during registration, your account will be flagged, and it may be restricted or banned.
All these processes ensure that gamblers on this mobile casino app are legitimate and everyone has an equal chance at winning here.
You can easily make your deposits and withdrawals on the N1 Casino app. You have access to all the payment and withdrawal methods available on this website on the mobile app.
We are accepts VISA, Mastercard, various e-wallets and even receives payment in cryptocurrency. You can find the complete list of withdrawal and deposit methods accepts on this website. Select whichever payment you prefer and start gambling on the N1Bet casino app immediately.
How to Get Bonus on the N1Bet Casino App
You immediately receive a bonus when you're done registering on N1Bet's mobile version. N1Bet Casino rewards players for joining the platform. N1 Bet Casino has lots of bonus offers available for players. They include welcome bonuses, reload bonuses, free spins and even no-deposit bonuses.
Read more about all the bonus offers N1Bet Casino offers here on this website. If you have an N1 Bet Casino bonus code, make use of the bonus code when you are making a deposit. The bonus would be activated, and you can go ahead to win as much as you can on the app.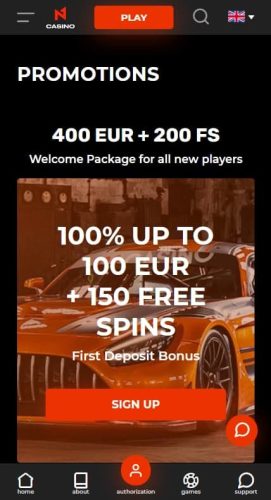 Security on the N1Bet App
N1 Bet Casino is a fully licensed platform. This casino is licensed by the Malta Gaming Authority and other required bodies. These licenses ensure that the platform is secure for use and also transparent. You can trust to protect your information on the mobile app. N1 Bet Casino uses SSL file encryption to protect your data from invaders.
You can trust that the N1Bet Casino app is clean and safe to use on your device because it is a fully licensed casino. N1 Bet Casino constantly gets security audits from McAfee, MDS, eCogra and similar bodies. All this is done to gain users' trust and protect their data from any malicious actors.
Pros and Cons
Advantages
With the N1 Casino mobile app, you can access the casino anytime you want and from any location with internet access. Research reports state that people use their mobile phones more than their laptops or other devices. The mobile app allows you to use your phone time to enjoy the gambling experience easy on your mobile phone.
Installing the N1 Bet Casino app is a faster way to play on games. With the app, on your home screen or on your browser's menu, it is really easy to reach and you don't need a web address. Once you have logged into the app, it can store your data, so next time, you do not have to log in again. Also, the mobile version is light, so it runs fast. If you are interested in mobile playing, the app would be faster to reach the casino's games. Furthermore, with the navigation bar at the bottom, you can easily move around the app without any hassle.
Desktop and Mobile Synchronization
The website and the mobile app essentially work the same way. The functions are the same, and it's the same process for playing games on both platforms. Also, your data is synced across any platforms you're using, so all you have to do is log in.
Disadvantages
The disadvantage of the mobile version of N1 Bet Casino is that not all games are compatible with it. Our best game providers have developed their games in HTML5, and the app can play those. Unfortunately, some old titles from some game providers are built-in in much older web formats, and the app does not support them.
If you love gambling on N1Bet Casino, download the N1Bet Casino Mobile App to enjoy the full gambling experience anywhere you are. You can trust the N1 Bet Casino app here because N1Bet casino is a licensed casino. Since the casino is licensed, the app is constantly being audited and this makes it safe and secure for it.